Rate for air freight from Noi Bai airport (HAN), Hanoi Vietnam
Noi Bai International Airport (IATA code: HAN) is considered the most important gateway, connecting goods from Hanoi capital and Northern provinces of Vietnam to all over the world by air.
Understanding the huge market demand for air transport (air cargo) from Hanoi and neighboring provinces, TTL logistics provides a table of monthly air transport price list. Our services not only have good prices, but also ensure top quality of the service.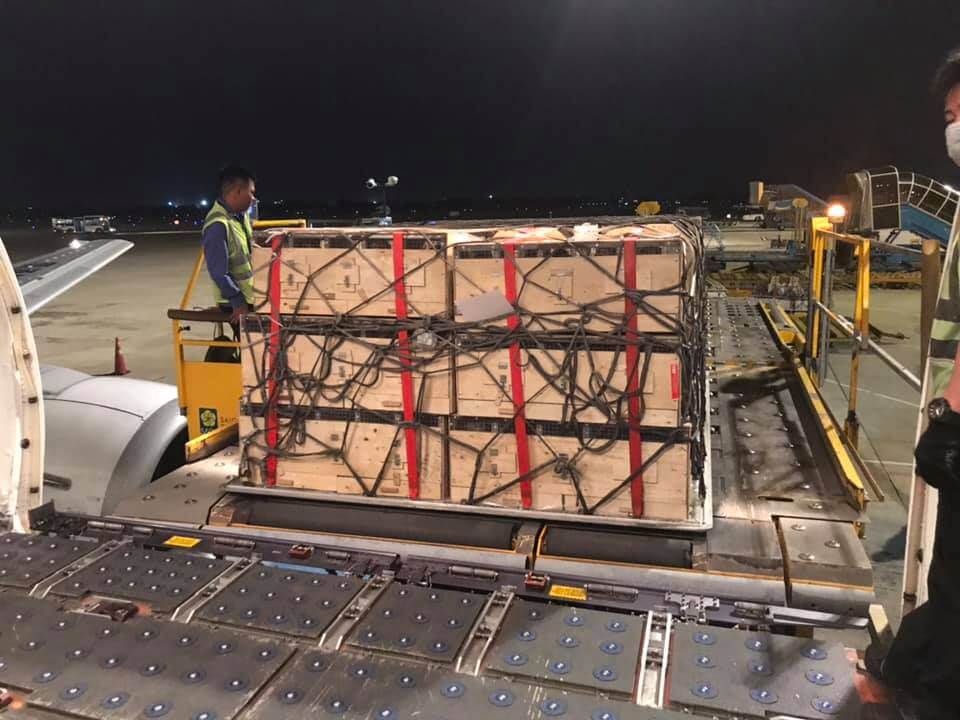 Update air freight and surcharges from Hanoi, Vietnam to other countries
1. Air freight
Here below is our best cost for air transportation from Hanoi, Vietnam to all destinations in the world:
| | | | | | | | | |
| --- | --- | --- | --- | --- | --- | --- | --- | --- |
| Destination | IATA code | MIN | -45kg | +45kg | +100kgs | +300kgs | +500kgs | +1000kgs |
| Abu Dhabi | AUH | 65.8 | 6.58 | 4.65 | 3.55 | 2.85 | 2.65 | 2.55 |
| Alexandria | HBE | 65.8 | 6.58 | 4.65 | 3.55 | 2.85 | 2.65 | 2.55 |
| Amman | AMM | 56 | 5.6 | 4.3 | 3.2 | 2.5 | 2.3 | 2.2 |
| Baghdad | BGW | 65.8 | 6.58 | 4.65 | 3.55 | 2.85 | 2.65 | 2.55 |
| Bahrain | BAH | 65.8 | 6.58 | 4.65 | 3.55 | 2.85 | 2.65 | 2.55 |
| Beirut | BEY | 65.8 | 6.58 | 4.65 | 3.55 | 2.85 | 2.65 | 2.55 |
| Dammam | DMM | 65.8 | 6.58 | 4.65 | 3.55 | 2.85 | 2.65 | 2.55 |
| Dubai | DXB | 65.8 | 6.58 | 4.65 | 3.55 | 2.85 | 2.65 | 2.55 |
| Erbil | EBL | 65.8 | 6.58 | 4.65 | 3.55 | 2.85 | 2.65 | 2.55 |
| Jeddah | JED | 65.8 | 6.58 | 4.65 | 3.55 | 2.85 | 2.65 | 2.55 |
| Kuwait | KWI | 65.8 | 6.58 | 4.65 | 3.55 | 2.85 | 2.65 | 2.55 |
| Muscat | MCT | 65.8 | 6.58 | 4.65 | 3.55 | 2.85 | 2.65 | 2.55 |
| Riyadh | RUH | 65.8 | 6.58 | 4.65 | 3.55 | 2.85 | 2.65 | 2.55 |
| Sulaymaniyah | ISU | 65.8 | 6.58 | 4.65 | 3.55 | 2.85 | 2.65 | 2.55 |
| Tehran | IKA | 65.8 | 6.58 | 4.65 | 3.55 | 2.85 | 2.65 | 2.55 |
| Almaty | ALA | 112 | 11.2 | 6.3 | 5.2 | 4.5 | 4.3 | 4.2 |
| Amsterdam | AMS | 61.6 | 6.16 | 4.5 | 3.4 | 2.7 | 2.5 | 2.4 |
| Athens | ATH | 53.2 | 5.32 | 4.2 | 3.1 | 2.4 | 2.2 | 2.1 |
| Baku | GYD | 61.6 | 6.16 | 4.5 | 3.4 | 2.7 | 2.5 | 2.4 |
| Barcelona | BCN | 61.6 | 6.16 | 4.5 | 3.4 | 2.7 | 2.5 | 2.4 |
| Basel | BSL | 61.6 | 6.16 | 4.5 | 3.4 | 2.7 | 2.5 | 2.4 |
| Belgrade | BEG | 67.2 | 6.72 | 4.7 | 3.6 | 2.9 | 2.7 | 2.6 |
| Berlin | BER | 61.6 | 6.16 | 4.5 | 3.6 | 2.7 | 2.5 | 2.4 |
| Brussels | BRU | 53.2 | 5.32 | 4.2 | 3.1 | 2.4 | 2.2 | 2.1 |
| Budapest | BUD | 61.6 | 6.16 | 4.5 | 3.4 | 2.7 | 2.5 | 2.4 |
| Copenhagen | CPH | 53.2 | 5.32 | 4.2 | 3.1 | 2.4 | 2.2 | 2.1 |
| Dublin | DUB | 56 | 5.6 | 4.3 | 3.2 | 2.5 | 2.3 | 2.2 |
| Edinburgh | EDI | 61.6 | 6.16 | 4.5 | 3.4 | 2.7 | 2.5 | 2.4 |
| Dusseldorf | DUS | 56 | 5.6 | 4.3 | 3.2 | 2.5 | 2.3 | 2.2 |
| Frankfurt | FRA | 61.6 | 6.16 | 4.5 | 3.4 | 2.7 | 2.5 | 2.4 |
| Helsinki | HEL | 61.6 | 6.16 | 4.5 | 3.4 | 2.7 | 2.5 | 2.4 |
| Istanbul | IST | 53.2 | 5.32 | 4.2 | 3.1 | 2.4 | 2.2 | 2.1 |
| Larnaca | LCA | 61.6 | 6.16 | 4.5 | 3.4 | 2.7 | 2.5 | 2.4 |
| Liege | LGG | 61.6 | 6.16 | 4.5 | 3.4 | 2.7 | 2.5 | 2.4 |
| London Gatwick | LGW | 61.6 | 6.16 | 4.5 | 3.4 | 2.7 | 2.5 | 2.4 |
| London Heathrow | LHR | 53.2 | 5.32 | 4.2 | 3.1 | 2.4 | 2.2 | 2.1 |
| Luxembourg | LUX | 61.6 | 6.16 | 4.5 | 3.4 | 2.7 | 2.5 | 2.4 |
| Madrid | MAD | 56 | 5.6 | 4.3 | 3.2 | 2.5 | 2.3 | 2.2 |
| Manchester | MAN | 53.2 | 5.32 | 4.2 | 3.1 | 2.4 | 2.2 | 2.1 |
| Milan | MXP | 53.2 | 5.32 | 4.2 | 3.1 | 2.4 | 2.2 | 2.1 |
| Munich | MUC | 53.2 | 5.32 | 4.2 | 3.1 | 2.4 | 2.2 | 2.1 |
| Oslo | OSL | 61.6 | 6.16 | 4.5 | 3.4 | 2.7 | 2.5 | 2.4 |
| Paris | CDG | 53.2 | 5.32 | 4.2 | 3.1 | 2.4 | 2.2 | 2.1 |
| Prague | PRG | 56 | 5.6 | 4.3 | 3.2 | 2.5 | 2.3 | 2.2 |
| Rome | FCO | 53.2 | 5.32 | 4.2 | 3.1 | 2.4 | 2.2 | 2.1 |
| Stansted | STN | 61.6 | 6.16 | 4.5 | 3.4 | 2.7 | 2.5 | 2.4 |
| Stockholm | ARN | 61.6 | 6.16 | 4.5 | 3.4 | 2.7 | 2.5 | 2.4 |
| Tbilisi | TBS | 67.2 | 6.72 | 4.7 | 3.6 | 2.9 | 2.7 | 2.6 |
| Vienna | VIE | 61.6 | 6.16 | 4.5 | 3.4 | 2.7 | 2.5 | 2.4 |
| Warsaw | WAW | 61.6 | 6.16 | 4.5 | 3.4 | 2.7 | 2.5 | 2.4 |
| Yerevan | EVN | 112 | 11.2 | 6.3 | 5.2 | 4.5 | 4.3 | 4.2 |
| Zagreb | ZAG | 61.6 | 6.16 | 4.5 | 3.4 | 2.7 | 2.5 | 2.4 |
| Zaragoza | ZAZ | 72.8 | 7.28 | 4.9 | 3.8 | 3.1 | 2.9 | 2.8 |
| Zurich | ZRH | 56 | 5.6 | 4.3 | 3.2 | 2.5 | 2.3 | 2.2 |
| Ahmedabad | AMD | 61.6 | 6.16 | 4.5 | 3.4 | 2.7 | 2.5 | 2.4 |
| Amritsar | ATQ | 61.6 | 6.16 | 4.5 | 3.4 | 2.7 | 2.5 | 2.4 |
| Bengaluru | BLR | 61.6 | 6.16 | 4.5 | 3.4 | 2.7 | 2.5 | 2.4 |
| Calcutta | CCU | 61.6 | 6.16 | 4.5 | 3.4 | 2.7 | 2.5 | 2.4 |
| Chennai | MAA | 61.6 | 6.16 | 4.5 | 3.4 | 2.7 | 2.5 | 2.4 |
| Colombo | CMB | 56 | 5.6 | 4.3 | 3.2 | 2.5 | 2.3 | 2.2 |
| Delhi | DEL | 61.6 | 6.16 | 4.5 | 3.4 | 2.7 | 2.5 | 2.4 |
| Dhaka | DAC | 56 | 5.6 | 4.3 | 3.2 | 2.5 | 2.3 | 2.2 |
| Goa | GOI | 61.6 | 6.16 | 4.5 | 3.4 | 2.7 | 2.5 | 2.4 |
| Hyderabad | HYD | 61.6 | 6.16 | 4.5 | 3.4 | 2.7 | 2.5 | 2.4 |
| Islamabad | ISB | 61.6 | 6.16 | 4.5 | 3.4 | 2.7 | 2.5 | 2.4 |
| Karachi | KHI | 61.6 | 6.16 | 4.5 | 3.4 | 2.7 | 2.5 | 2.4 |
| Kathmandu | KTM | 61.6 | 6.16 | 4.5 | 3.4 | 2.7 | 2.5 | 2.4 |
| Kochi | COK | 61.6 | 6.16 | 4.5 | 3.4 | 2.7 | 2.5 | 2.4 |
| Lahore | LHE | 56 | 5.6 | 4.3 | 3.2 | 2.5 | 2.3 | 2.2 |
| Maldives | MLE | 61.6 | 6.16 | 4.5 | 3.4 | 2.7 | 2.5 | 2.4 |
| Mumbai | BOM | 61.6 | 6.16 | 4.5 | 3.4 | 2.7 | 2.5 | 2.4 |
| Sialkot | SKT | 61.6 | 6.16 | 4.5 | 3.4 | 2.7 | 2.5 | 2.4 |
| Peshawar | PEW | 61.6 | 6.16 | 4.5 | 3.4 | 2.7 | 2.5 | 2.4 |
| Abidjan | ABJ | 98 | 9.8 | 5.8 | 4.7 | 4 | 3.8 | 3.7 |
| Abuja | ABV | 98 | 9.8 | 5.8 | 4.7 | 4 | 3.8 | 3.7 |
| Accra | ACC | 98 | 9.8 | 5.8 | 4.7 | 4 | 3.8 | 3.7 |
| Addis Ababa | ADD | 98 | 9.8 | 5.8 | 4.7 | 4 | 3.8 | 3.7 |
| Algiers | ALG | 98 | 9.8 | 5.8 | 4.7 | 4 | 3.8 | 3.7 |
| Cairo | CAI | 98 | 9.8 | 5.8 | 4.7 | 4 | 3.8 | 3.7 |
| Cape Town | CPT | 98 | 9.8 | 5.8 | 4.7 | 4 | 3.8 | 3.7 |
| Casablanca | CMN | 98 | 9.8 | 5.8 | 4.7 | 4 | 3.8 | 3.7 |
| Dar Es Salaam | DAR | 98 | 9.8 | 5.8 | 4.7 | 4 | 3.8 | 3.7 |
| Djibouti | JIB | 98 | 9.8 | 5.8 | 4.7 | 4 | 3.8 | 3.7 |
| Durban | DUR | 98 | 9.8 | 5.8 | 4.7 | 4 | 3.8 | 3.7 |
| Entebbe | EBB | 98 | 9.8 | 5.8 | 4.7 | 4 | 3.8 | 3.7 |
| Harare | HRE | 98 | 9.8 | 5.8 | 4.7 | 4 | 3.8 | 3.7 |
| Johannesburg | JNB | 89.6 | 8.96 | 5.5 | 4.4 | 3.7 | 3.5 | 3.4 |
| Kigali | KGL | 98 | 9.8 | 5.8 | 4.7 | 4 | 3.8 | 3.7 |
| Lagos | LOS | 98 | 9.8 | 5.8 | 4.7 | 4 | 3.8 | 3.7 |
| Lusaka | LUN | 98 | 9.8 | 5.8 | 4.7 | 4 | 3.8 | 3.7 |
| Maputo | MPM | 98 | 9.8 | 5.8 | 4.7 | 4 | 3.8 | 3.7 |
| Nairobi | NBO | 98 | 9.8 | 5.8 | 4.7 | 4 | 3.8 | 3.7 |
| Luanda | LAD | 98 | 9.8 | 5.8 | 4.7 | 4 | 3.8 | 3.7 |
| Seychelles | SEZ | 98 | 9.8 | 5.8 | 4.7 | 4 | 3.8 | 3.7 |
| Tunis | TUN | 98 | 9.8 | 5.8 | 4.7 | 4 | 3.8 | 3.7 |
| Zanzibar | ZNZ | 98 | 9.8 | 5.8 | 4.7 | 4 | 3.8 | 3.7 |
| Atlanta | ATL | 78.4 | 7.84 | 5.1 | 4 | 3.3 | 3.1 | 3 |
| Boston | BOS | 75.6 | 7.56 | 5 | 3.9 | 3.2 | 3 | 2.9 |
| Chicago | ORD | 84 | 8.4 | 5.3 | 4.2 | 3.5 | 3.3 | 3.2 |
| Dallas | DFW | 84 | 8.4 | 5.3 | 4.2 | 3.5 | 3.3 | 3.2 |
| Houston | IAH | 75.6 | 7.56 | 5 | 3.9 | 3.2 | 3 | 2.9 |
| Los Angeles | LAX | 78.4 | 7.84 | 5.1 | 4 | 3.3 | 3.1 | 3 |
| Miami | MIA | 112 | 11.2 | 6.3 | 5.2 | 4.5 | 4.3 | 4.2 |
| Montreal | YUL | 95.2 | 9.52 | 5.7 | 4.6 | 3.9 | 3.7 | 3.6 |
| New York | JFK | 78.4 | 7.84 | 5.1 | 4 | 3.3 | 3.1 | 3 |
| Philadelphia | PHL | 75.6 | 7.56 | 5 | 3.9 | 3.2 | 3 | 2.9 |
| San Francisco | SFO | 70 | 7 | 4.8 | 3.7 | 3 | 2.8 | 2.7 |
| Seatle | SEA | 78.4 | 7.84 | 5.1 | 4 | 3.3 | 3.1 | 3 |
| Washington | IAD | 84 | 8.4 | 5.3 | 4.2 | 3.5 | 3.3 | 3.2 |
| Buenos Aires | EZE | 154 | 15.4 | 7.8 | 6.7 | 6 | 5.8 | 5.7 |
| Santa Lucia | NLU | 154 | 15.4 | 7.8 | 6.7 | 6 | 5.8 | 5.7 |
| Sao Paulo | GRU | 154 | 15.4 | 7.8 | 6.7 | 6 | 5.8 | 5.7 |
Air freight from Hanoi, Vietnam
2. Other surcharges
– Charge of AWB/AMS: 15 USD/shipment
– X-ray fee: 0.017 USD/kg
– Facility and terminal handling : 0.06 USD/kg